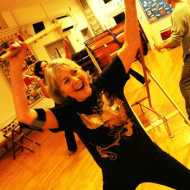 About
In association with Tamashii School of Taiko-Do, Taiko Oxford teaches and promotes the practice of Japanese drumming in a group. Anyone who's seen Japanese master groups like Kodo or Yamato will agree it's a visually exciting performance art, full of energy. Although the popularity of taiko playing in the UK is growing, there are still relatively few players. Anyone can learn to play rhythms and songs. Understanding and practicing Taiko-Do, the Way of Taiko is a different journey. Come along to a taster session or join a class to find out more.

Founder Val Tate has been playing taiko since 2000. She trains and performs with Tamashii Daiko led by Liz Walters who also runs the Tamashii School of Taiko-Do. Liz is one of the UK's foremost teachers and players of the Hokuriku taiko tradition, a challenging art form through which players freely express their personality, energy and spirit. Taiko Oxford honours and emulates these ideals.
Online booking is currently unavailable.
Please contact us for more information.